It's true. Still horny. But lucky for me I have a horny partner to keep me busy. He's happy to offer me the appropriate hysteria treatment when I'm in need. And there's always the morning sex. The almost time to get out of bed sex. And the hey, we're both clean! sex. (It's fun to be all smooth and slippery together.)
Lately though, I can simply whip out the girls — my friend Tracy would be so proud of me. She has always referred to her formidable boobies as "the girls," of course she's also had two breast reductions and is still, well, still has some very nice girls — and shake them in the general direction of my male's gaze and whammo! Hysteria treatment here I come. (I almost typed "cum," guess I should have)
So yes, I happily embody the stereotype of the horny pregnant lady. We'll see what happens if I ever get the ickiness/vomiting/fun time that I've also been promised. And really, I can't predict how hot I'll feel when I've got an extra 20 or 30 pounds on me. Considering the fact that I feel bloated and fat for at least a whole day after a full meal, well, yes, we'll see if the when round I still feel like bouncing my boobs, let alone a bed.
mommy-to-be viewing materials:
Rajashree's Pregnancy Yoga
: I went to my bikram yoga class last night and told the instructor why I would not do a few of the poses. She acted appropriately, squeeled, giggled and congratulated me. And handed me a video (yay! VHS) to take home. It offers corrections for some of the poses that compress the wrong parts. Most of the corrections are for the floor series.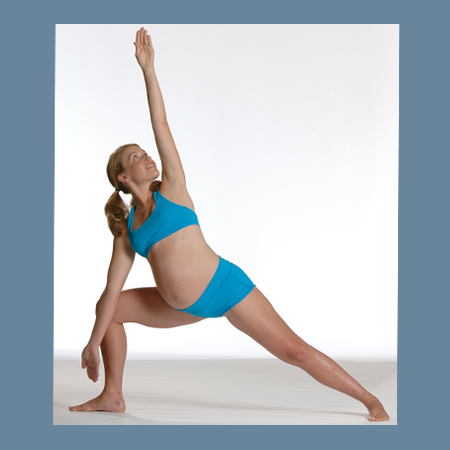 Bikram yoga pregnancy postures
: A quick Web search and I found the
Dallas Bikram site
offers the postures illustrated by a real deal pregnant lady in action. (See image above)
More on bikram and practicing while preggars: From
Bikram Yoga
, this page focuses on being flexible, both in your practice and your consideration of your practice. While pointing out that "practicing yoga during pregnancy is one of the healthiest ways to nurture yourself and your baby," the author also calls for caution: we might be more flexible during pregnancy, but we have to be extremely careful not to injure ourselves by pushing too hard. Also, our balance will change as the pregnancy progresses.
So, yeah, here's to being "flexible."